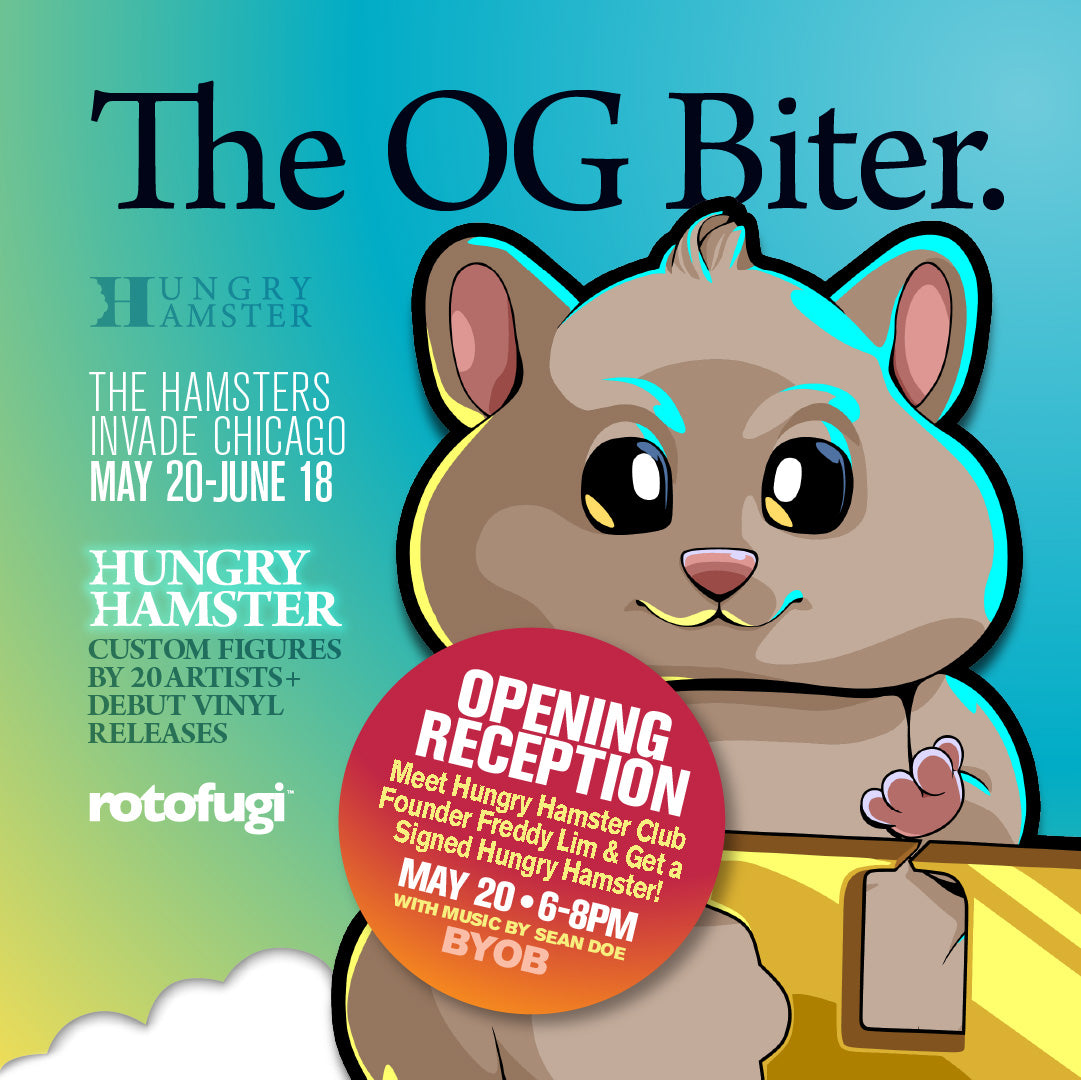 The Hungry Hamsters are invading Chicago this Saturday!
The Hungry Hamster is a representation of greed you see in everyday artists and its ecosystem. Each of them has a story to be told and hold on to a half-eaten "munchie," giving you a hint of the little desires they so wish for.

Conceived as both a digital and physical collectible, Hungry Hamster is the brainchild of Singapore-based creative Freddy Lim, along with Taketo Kobayashi, and Oasim Karmieh. The digital collectible release of 5,555 NFTs found the Hungry Hamster eating it's way into the hearts of fans in December, and now the vinyl figure is poised to chew it's way into the homes of a few hundred humans and begin it's global domination!

We've enlisted the help of 20 artists from Chicago and beyond to create custom versions and help celebrate the official release of the first two figures in the Hungry Hamster Art Toy Genesis Collection: the Original Hungry Hamster vinyl figure with it's trademark H logo munchie (edition of 300), plus the sick black and gold "An Evil Thought" version (edition of 200) with it's skull munchie.



Join us for the opening reception on Saturday, May 20, 6-8pm where you can meet Hungry Hamster Club founder and lead designer Freddy Lim who will be available to meet with fans and sign purchased figures — plus a special Deep House mix by Rotofugi Music Director Sean Doe! Free snacks and soft drinks, BYOB.

Custom Hamsters and vinyl figures will be available first to attendees of the opening reception of the exhibit, followed by an online release at rotofugi.com early in the following week, with custom figures being available first to our Gallery Previews Email List members. You can sign up at https://previews.rotofugi.com

Participating Artists: Ali Six – Bombastic Plastic/Neil Ewing – The Bots – BRAIN KILLER – Steve Bravo – ChrisRWK – Don Mega Art – Elloo – Freddy Lim — JIMBOT – Jeremiah Ketner — Max Nagata – Netherland – Ocean Muerto – One-Eyed Girl – Owlberry Lane – Reno Msad – Revise CMW – Shawnimals – Mr. Walters


HUNGRY HAMSTER Custom Show
May 20-June 18, 2023
Open 10am-6pm Daily

Opening Reception
Saturday, May 20, 6-8pm
Meet Hungry Hamster Club Founder Freddy Lim
Special Deep House Music Mix by Sean Doe
BYOB
---
UPDATE: Hungry Hamster vinyl figures are available now!

We're still working on listing the customs for sale online — sign up at https://previews.rotofugi.com to be notified when they are ready!