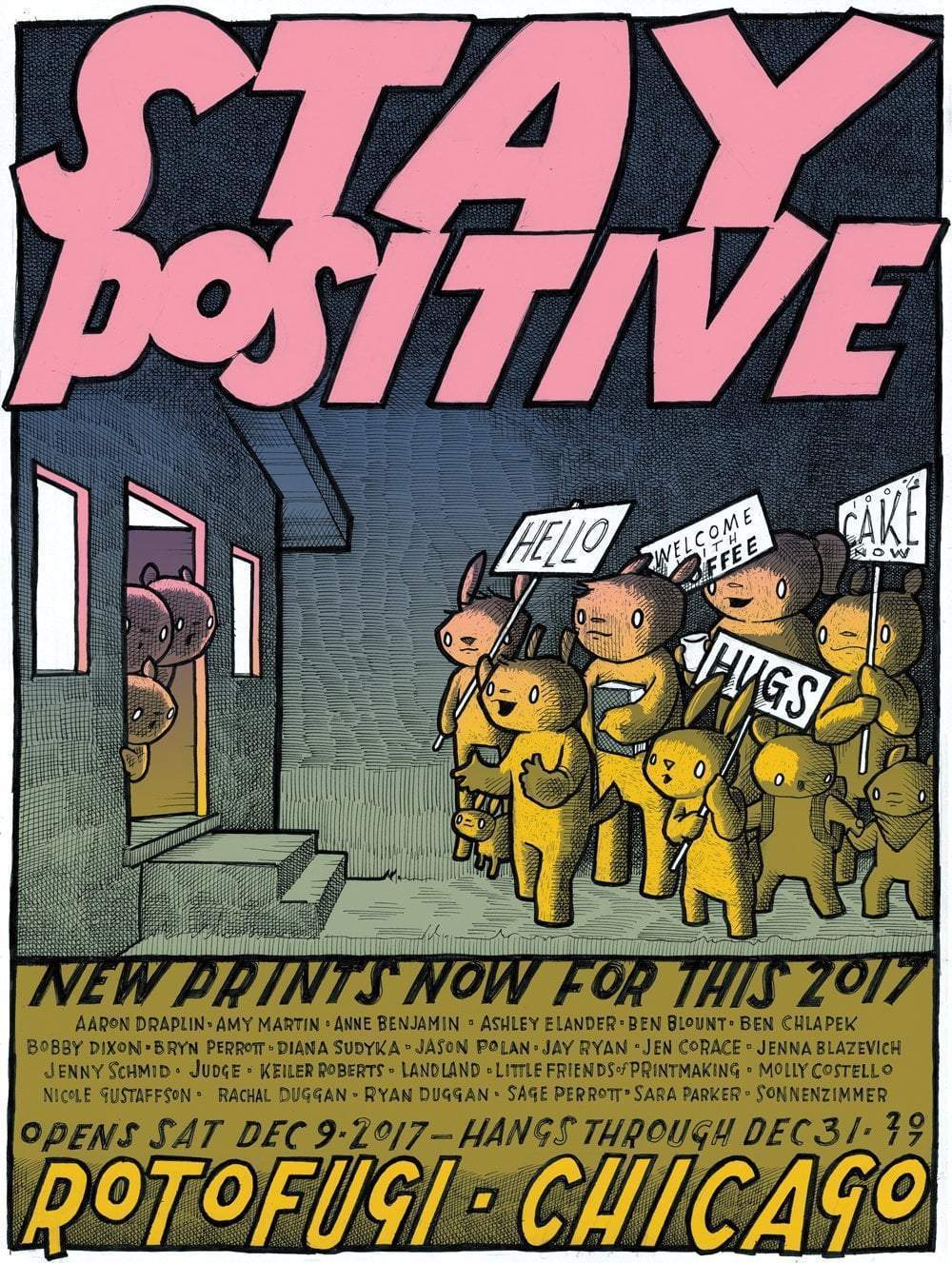 STAY POSITIVE
New Prints Now for This 2017
First Annual December Print Exhibit
Guest Curated by Jay Ryan
December 9-31, 2017
2017. Sigh. There's been plenty to complain, protest and worry about…but sometimes it's nice to step back from the edge and look for some optimism. With that in mind, guest curator Jay Ryan has done something quite admirable — he's gathered together an amazing group of artists, illustrators and designers with one goal in mind…stay positive! 
Join us the evening of Saturday, December 9, 7-10pm for the opening of our First Annual December Print Exhibit, Stay Positive – New Prints Now for This 2017. Guest curator Jay Ryan, plus many of the participating artists, will be in attendance, plus we'll have snacks and sodas available (BYOB if you want to have alcohol) and music by the always entertaining DJ Sean Doe.
The exhibit features new prints by Aaron Draplin, Amy Martin, Anne Benjamin, Ashley Elander, Ben Blount, Ben Chlapek, Bobby Dixon, Bryn Perrott, Diana Sudyka, Jason Polan, Jay Ryan, Jen Corace, Jenna Blazevich, Jenny Schmid, Judge, Keiler Roberts, Landland, Little Friends of Printmaking, Molly Costello, Nicole Gustafsson, Rachal Duggan, Ryan Duggan, Sage Perrott, Sara Parker & Sonnenzimmer — all available for cash and carry, perfect for holiday gifts!
For this special exhibit there will be no preview or early sales. Prints will be available at the gallery starting promptly at 7pm on December 9. Our Gallery Preview list members will get the first notice when remaining prints are made available to order online via our website in the week following the opening. Sign up at http://previews.rotofugi.com.
Exhibit continues through December 31, 2017.