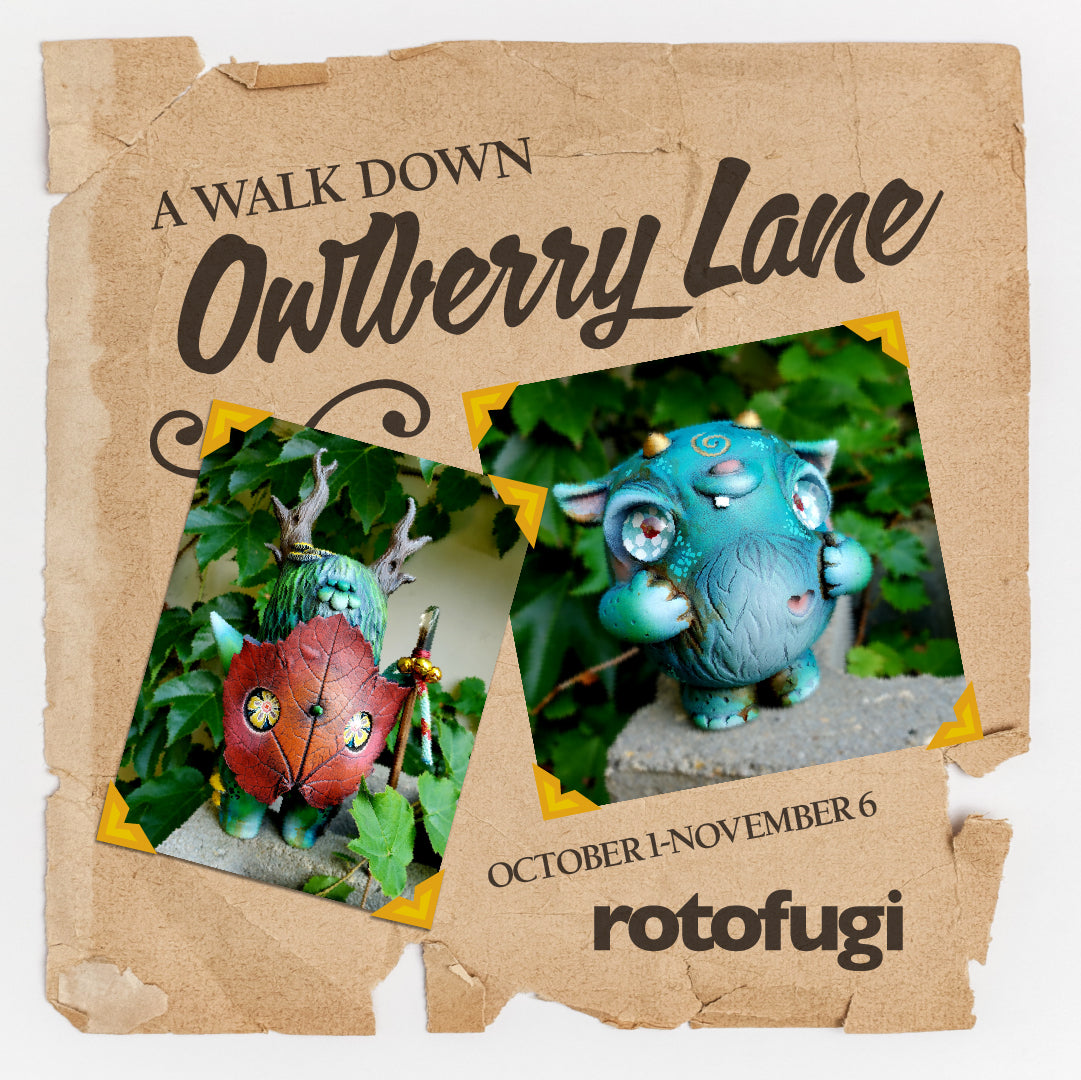 Won't you please join us for a stroll down to the fantastic world of Owlberry Lane?
We are excited to host a collection of new works by Owlberry Lane (Heather Hyatt), beginning Saturday, October 1st! We've had our eye on Heather's beautiful works for the last couple years and can't wait to share her fantastic creations with you!
Owlberry Lane is an old, moss-covered cobblestone street deep in the emerald forest. It is said that once an ancient tribe of elflings lived there, but it has been long since abandoned. Currently, it is home to the Owlberries, Baby Chonk, and many other (mostly) friendly monster creatures that sneak about the shadows of the forest living out their magical, but mostly silly, monster lives. All inhabitants of Owlberry Lane are hand-sculpted, painted, with custom made glass eyes and even among limited edition sets, are one of a kind.  

A Walk Down Owlberry Lane
October 1-November 6, 2022
Open Daily 10am-6pm

View in person at Rotofugi, 2780 N. Lincoln Ave., Chicago or online at gallery.rotofugi.com (after the exhibit opens).

For first opportunity to purchase online, please visit previews.rotofugi.com to sign up for our Gallery Previews email list.

—

About the Artist

Formally trained with a bachelor's degree in both graphic design and studio art, Heather Hyatt (aka Owlberry Lane) has been an artist for over twenty years. For a decade, she was an award-winning graphic designer in the corporate sector before turning her focus to her studio art side.

Owlberry Lane focuses on her love of traditional hand sculpting and art fantasy figures. It was originally inspired by her love of fantasy, which she has had since a child. She has been able to share this same love with her children and it has only grown exponentially.