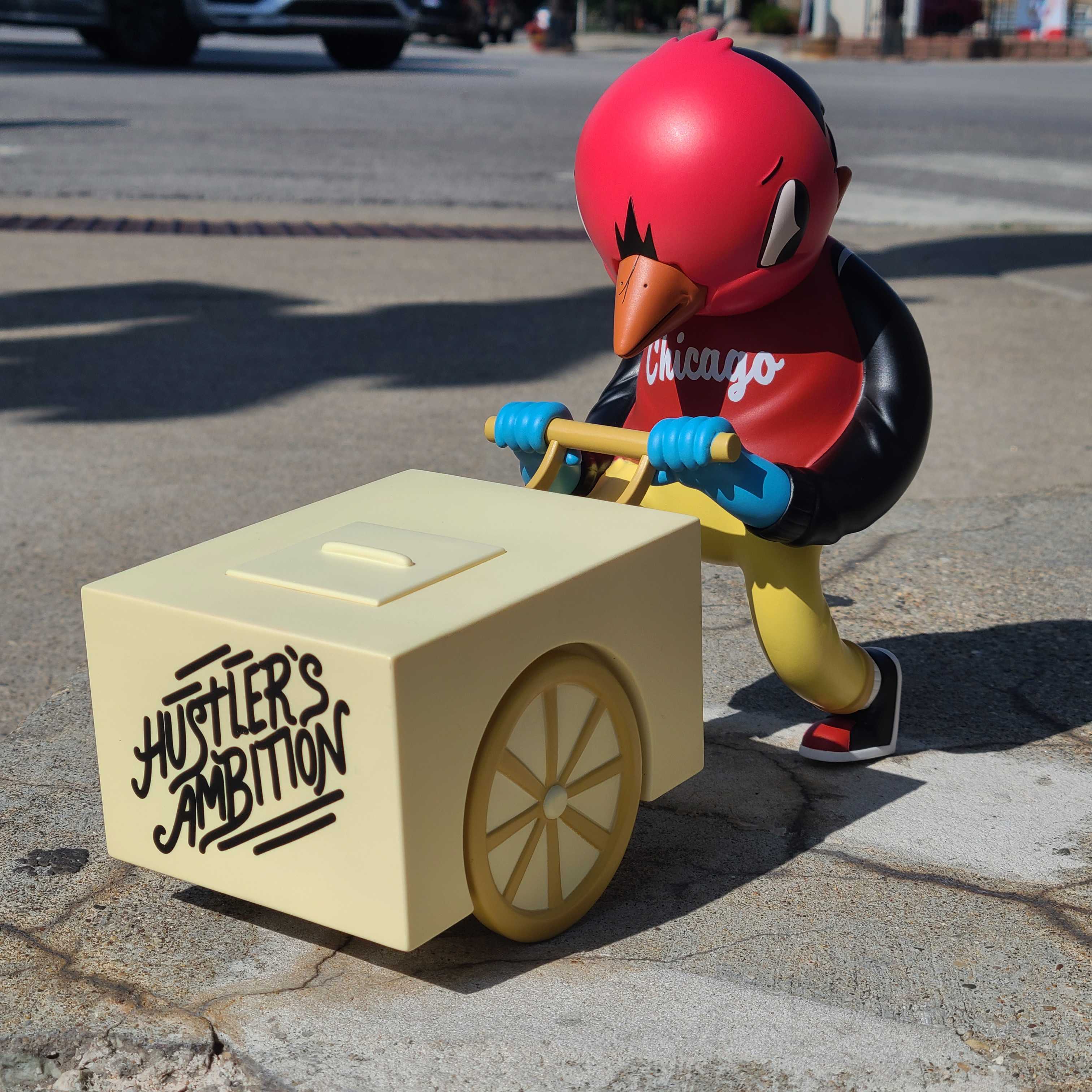 Do you have the hustle?
Hustler's Ambition — Chicago Edition by Sentrock will release in-store only this weekend at Rotofugi, 2780 N. Lincoln Ave, Chicago (open 10am-6pm daily).
This limited edition of 125 figures, produced by UVD Toys, brings to life the work of Chicago-based artist Sentrock and celebrates the hustle of the ubiquitous street food vendors found in Chicago and beyond. This release is a Rotofugi Exclusive.
Standing 8 inches tall, and a massive 10 inches long, Hustler's Ambition is a sizable chunk of vinyl art! This limited edition will be available in person at our Chicago store beginning Saturday, September 24 at 10am for $160, limit one per customer.
Online release will follow on Monday, September 26 (random time drop) if any stock remains.
UPDATE: Figures are Available Now
Also, SAVE THE DATE for a special in-store signing by Sentrock on October 29 where you can return with your figure to have it signed by the artist. More details to come.
SIGNING RESCHEDULED for Saturday, November 19, 2-4pm
In the meantime, be sure to check out Sentrock's first solo museum exhibit, "The Boy Who Wanted to Fly," at the Elmhurst Art Museum through January 15, 2023.
About the Artist
Joseph Perez, best known as "Sentrock" is a self taught street artist. Sentrock witnessed street art as a form of expression, birthing his interest to pick a spray can and continue his artistic voice. His early works were developed from graffiti writing in Mexican-American neighborhoods. Sentrock's signature bird-mask over a human figure has become his most recognizable declaration.  Sentrock describes his bird-mask as analogous to humanity: a person who is able to find or escape to their freedom by placing them in a different reality. Through his work, he has become a catalyst for his community. His work presents undertones of hope, freedom and expression. His work encapsulates his background, history, upbringing, empathy, and compassion for his community.