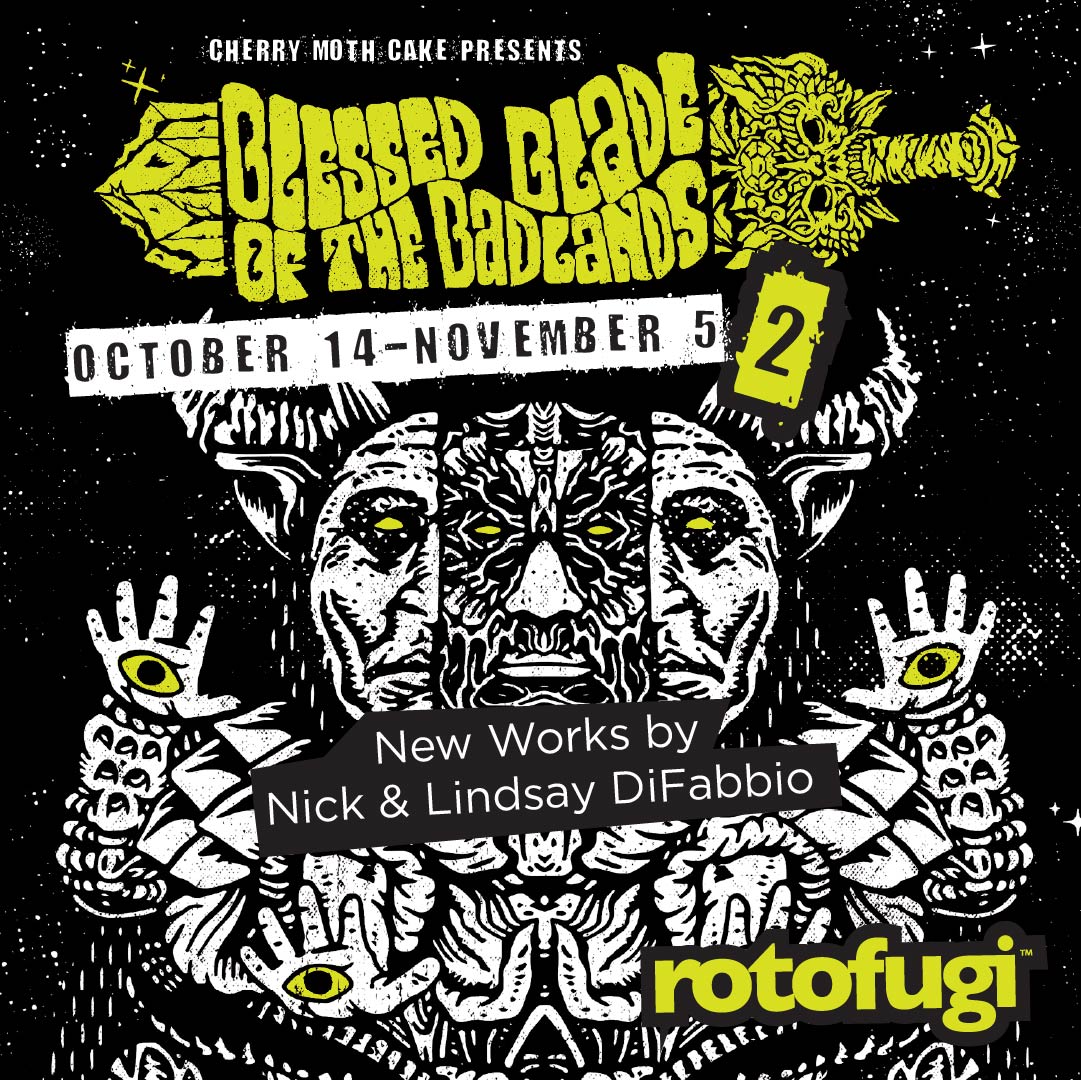 It's October and that means two things: it's officially spooky season (yay!) and our friends Nick and Lindsay DiFabbio (aka Cherry Moth Cake) are back with a new art exhibit!

But that's not ALL! For more than the last year Nick and Lindsay have been developing, designing, and play-testing a new card game featuring their art called Blessed Blade of the Badlands. Their exhibit in October 2022 introduced us to the Badlands and many of the characters, and this Saturday is the official debut and first release of the card game!

Produced in an edition of just 300 sets, this limited release will be your first opportunity to get your very own set of BBotB cards (before the full project is Kickstarted). Be the first to clear the obstacles, obtain the blade, and RULE THE BADLANDS!

Join us this Saturday, October 14, from 10am to 6pm for the opening of the Blessed Blade of the Badlands 2 exhibit, the release of the card game, and a pop-up shop with pins, prints, and more by Cherry Moth Cake! Nick and Lindsay will be at the store all day...swing by and play a few rounds!

Blessed Blade of the Badlands 2
New Works by Nick & Lindsay DiFabbio
October 14-November 5, 2023

Cherry Moth Cake Pop-Up & BBotB Release
Saturday, October 14, 10am-6pm

There will not be an online preview for this exhibit — online sales will happen in the week following the exhibit opening. If you're unable to attend in person make sure you sign up for our Gallery Previews email list at previews.rotofugi.com for updates.

The exhibit will be open for viewing daily 10am-6pm, October 14 through November 5 at Rotofugi, 2780 N. Lincoln Ave., Chicago and will be viewable at gallery.rotofugi.com as soon as we can get it ready!