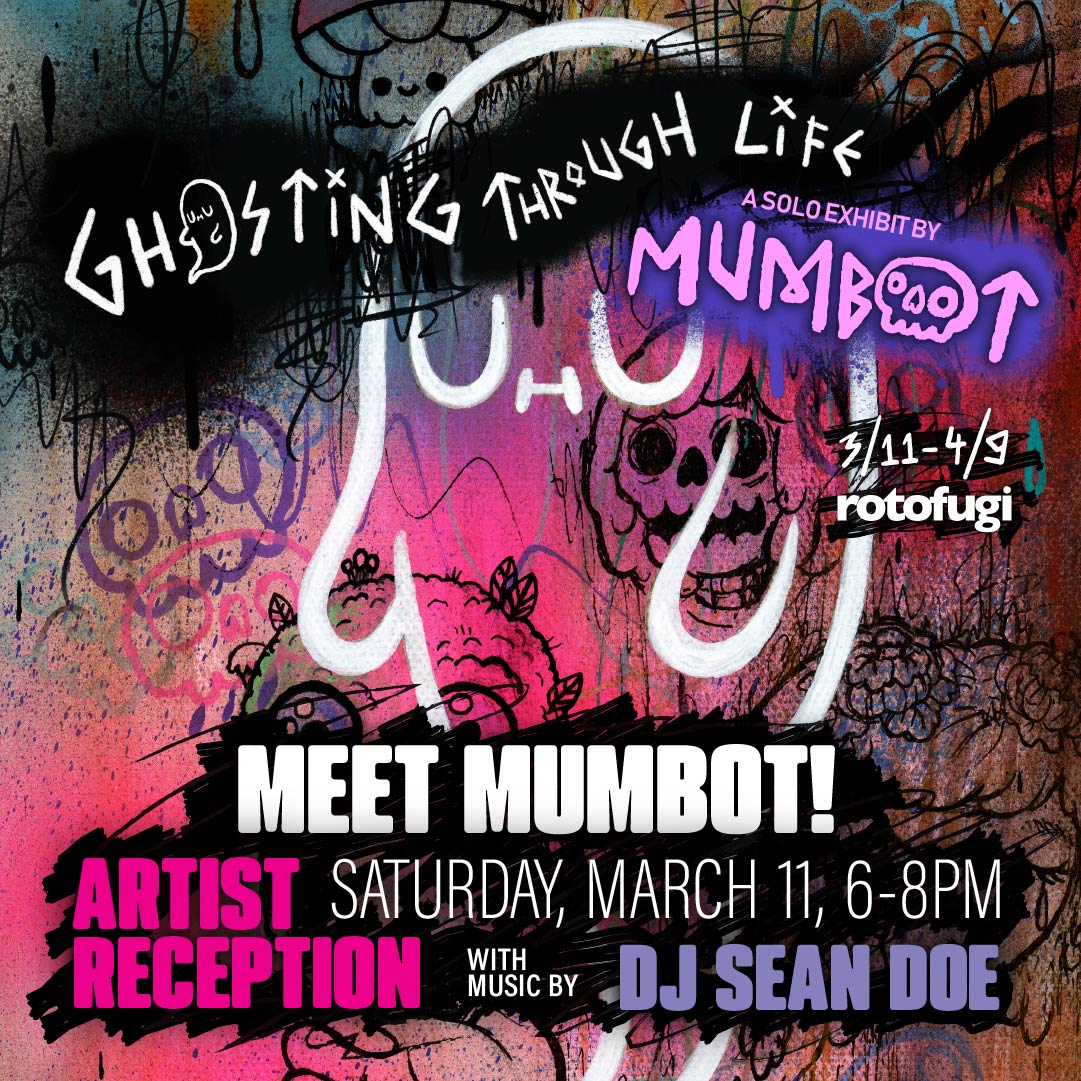 We last exhibited MUMBOT in November 2017 as part of a five-person show…since then MUMBOT has been oh so busy, growing MUMBOT WORLD in every possible direction: original art, vinyl art toys, sofubi, resin figures, enamel pins, apparel, plush, and more!
But the biggest developments since we last had her art on our walls are a very active and successful endeavor issuing and selling digital collectibles (aka NFTs), founding the GHOST CLUB creative community, and having both an animated series and an indie video game in development! So to say we are excited to have our friend back is an understatement!
MEET MUMBOT! Join us the evening of Saturday, March 11, 6-8pm for an informal artist reception with light snacks, soft drinks, and music by DJ Sean Doe! BYOB for alcohol.
Artworks will be available to purchase beginning at 10am on March 11, in-person at the gallery, 2780 N. Lincoln Ave., Chicago — and online via our Gallery Previews Email list…sign up at https://previews.rotofugi.com
---
Ghosting Through Life
New Works by MUMBOT
March 11-April 9, 2023
Open 10am-6pm Daily

Artist Reception
Saturday, March 11, 6-8pm
---
About the Artist

Jade Kuei, aka MUMBOT, is a NY/BKK-based artist, toy designer, storyteller & world builder.
In MUMBOT WORLD, MUMBOT has created not only a brand, but a whole magical world & lore where original characters: Aughostus the Ghost, Mossy the Moss Spirit, Shumi Mushrumi the Mushroom Spirit, Girl From the Forest Floor, Cryspu the Crystal Spirit, Skully Bones, and more characters come to life.
MUMBOT has built the brand from it's early stages--over 15 years ago drawing, painting, making zines, mini comics, hand sewing felt plush, hand sculpting/silicon mold making/resin casting in-house — to producing/manufacturing full collections of soft vinyl toys, sofubi, enamel pins, stickers, apparel, and plush!
One-of-one and limited edition digital collectibles have also played a huge role in building the artist's brand — MUMBOT has been operating in Web3 since early 2021, onboarding, building, and coming up with new ways to create cool stuff & innovate. As founder of the global creative community GHOST CLUB, MUMBOT continues to push further into the digital realm, while also still creating original artwork, apparel, and toys.
Looking forward, MUMBOT has a pilot for an animated series, as well as an indie game - the trailer for which is available to view on YouTube — as her next exciting expansion of MUMBOT WORLD. We can't wait to see what is next!