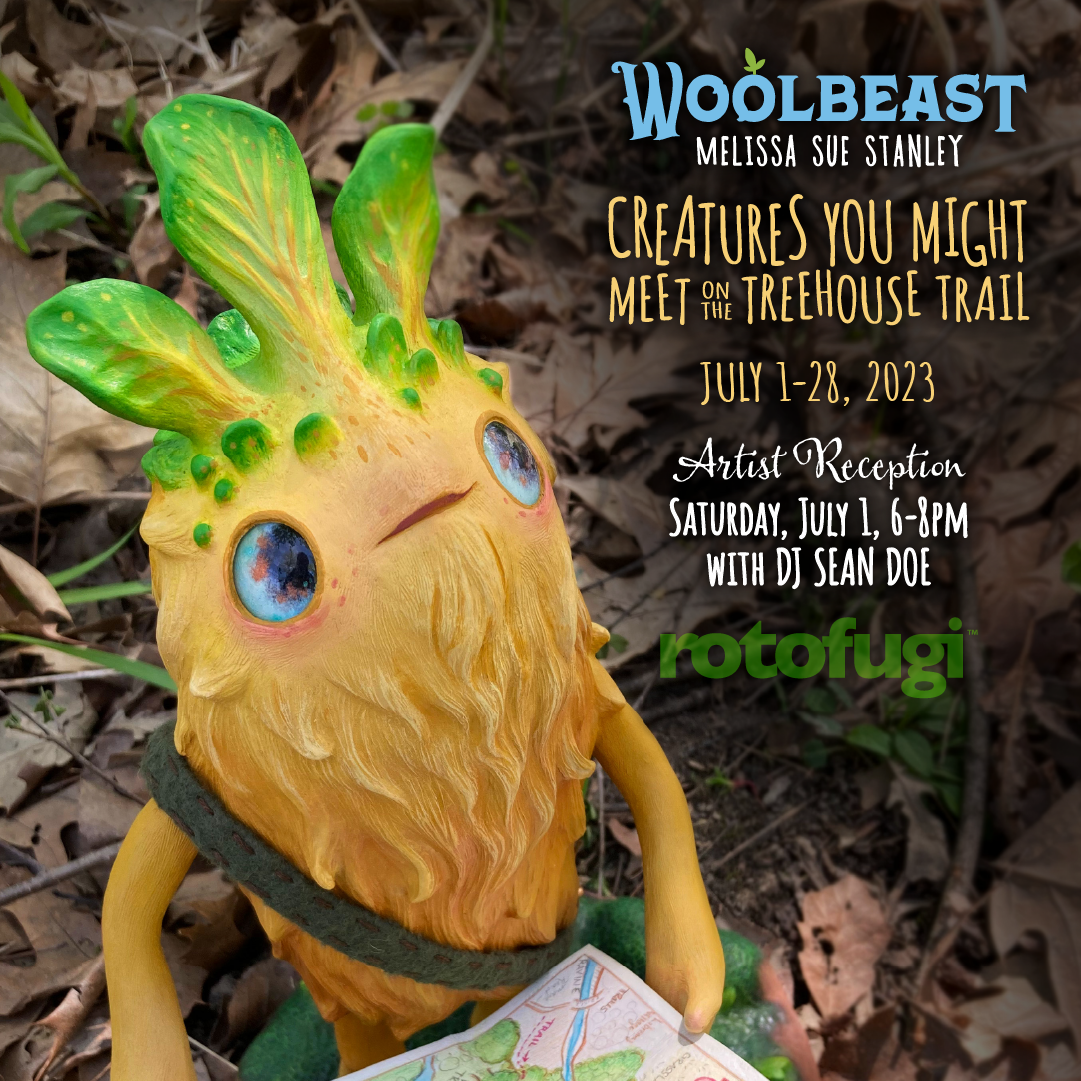 We're hitting our summer stride and ready to bring you a bunch more awesome art, starting with a new exhibit we are really excited about! Chicago-based Melissa Sue Stanley is a wonderful multi-disciplinary artist, illustrator, and storyteller that we last showed in 2016, my how time flies!

Beginning Saturday, July 1 we'll have a new exhibit featuring a collection of all new creature sculptures from Melissa's "Woolbeasts" narrative — Creatures You Might Meet on the Treehouse Trail. Don't miss your chance to check out these beautiful hand-sculpted creatures featuring hand-knitted scarves, stitched wool satchels, and their travel accessories.

A DANGEROUS ROAD WINDS THROUGH THE FOREST…

The creatures in the trees appear gentle — but every beast is wild, and even the softest has thorns hidden in its fur.

To help travelers navigate their way from the city to the sea, through the twisting wood and down into the dark valley, the Grimoire Council has commissioned the treehouse witch, Grisella, to produce a guidebook.

Grisella's Woolbeast Wayguide (coming summer 2024) will contain everything you need to know about traveling the Treehouse Forest: maps through the different regions, tips for shopping and dining, how to avoid death and dismemberment, and what to do for a bit of fun on the road.

A zine-style collection of stories from Grisella's Woolbeast Wayguide will be released as part of this exhibit.

—

Woolbeasts: Creatures You Might Meet on the Treehouse Trail
New Works by Melissa Sue Stanley
July 1-28, 2023
Open 10am-6pm Daily

Artist Reception — July 1, 6-8pm
featuring Music by DJ Sean Doe

Sign up for our Gallery Previews Email List at http://previews.rotofugi.com for first online access to this exhibit.