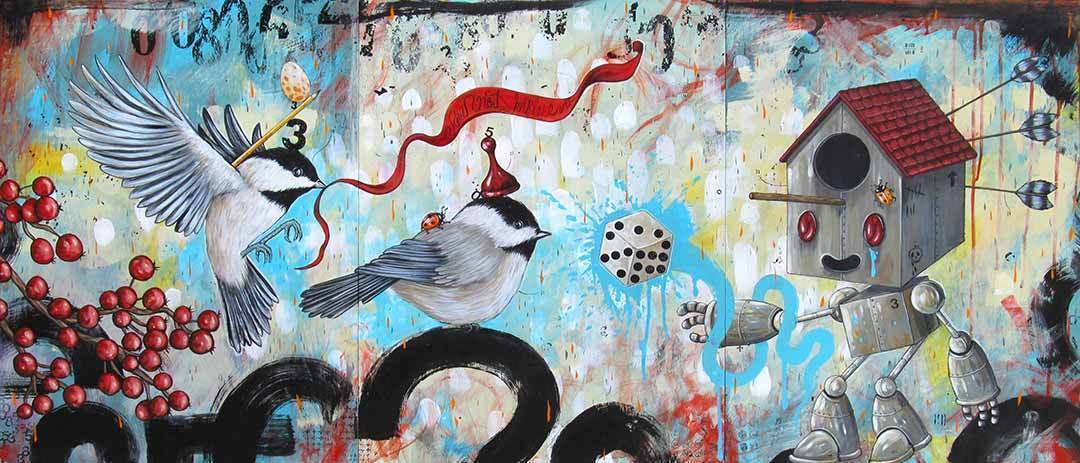 Transitionary
New Works by James 'Jimbot' Demski
January 6-28, 2018
BYOB Opening Reception
Saturday, January 6, 7-10pm
We kick off a new year with one of our favorites, Milwaukee-based artist James 'Jimbot' Demski! His combination of beautifully rendered wildlife, cartoony robots and great textures and colors strikes all the right notes.
Join us the evening of Saturday, January 6, 7-10pm for the opening reception. Jimbot will be in attendance, plus we'll have snacks and sodas available (BYOB if you want to have alcohol) and music by the always entertaining DJ Sean Doe.
About the Artist
Jimbot's art takes you into other worlds where the unusual can happen, beauty is around us, and your daydreams can become a reality. What exactly is happening is often left up to the viewer's interpretations and how they view the clues left behind by the artist.  He creates these worlds to escape to, and for the viewers to enjoy. James uses Acrylic paint, dry transfer letters, pencil and ink to convey his thoughts, and wants the viewer to enjoy them as much as he enjoyed painting them.
This will be Jimbot's fourth exhibit at Rotofugi.