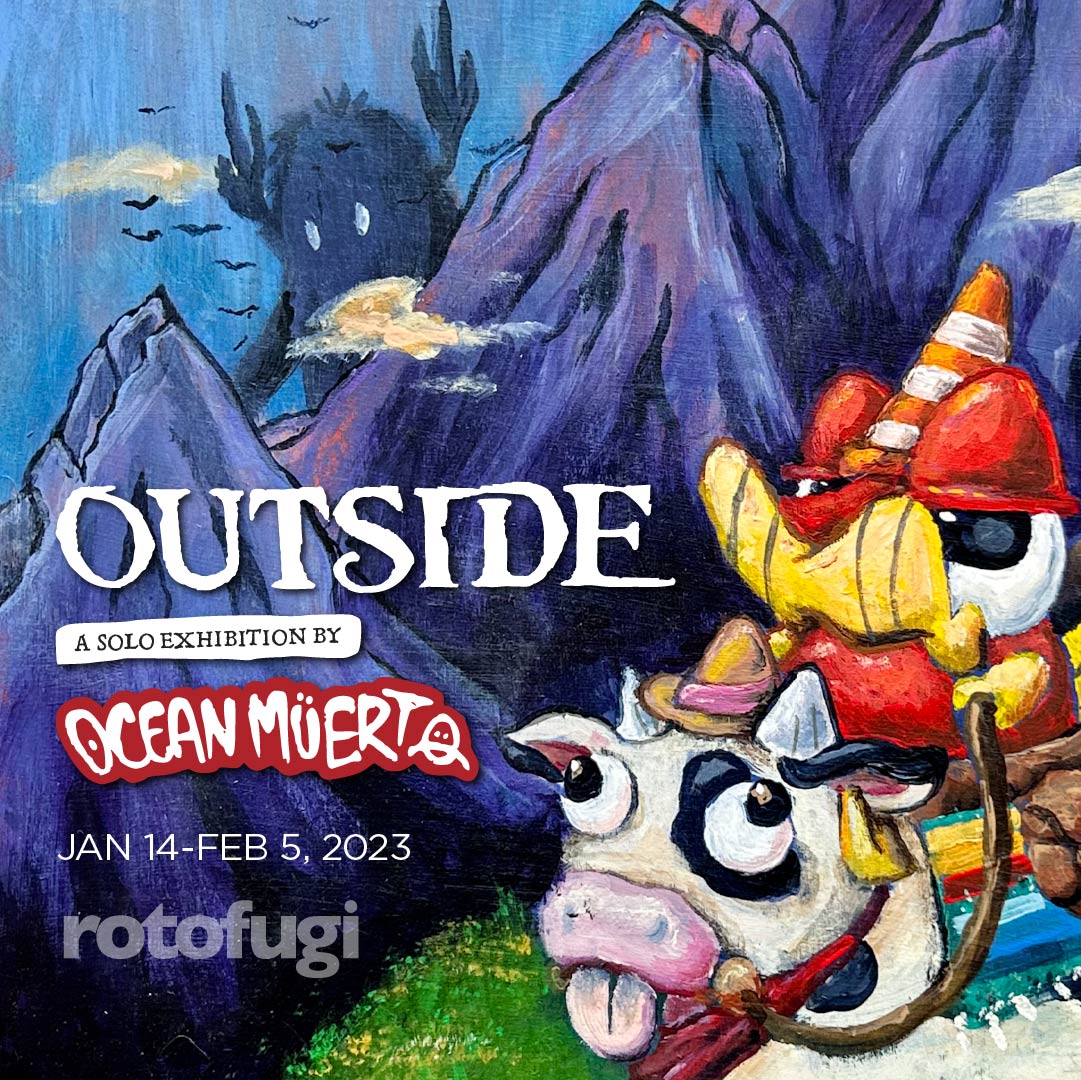 We kick off a new year of exhibits with a solo show by one of the many exciting voices in Chicago that have been rising up in the creative scene the last few years: Ocean Muerto!
We're particularly excited to be working with Ocean Muerto because he is among a group of artists locally that are very much taking a multi-disciplinary approach to art — working in everything from murals and graffiti, traditional media, 3D printing, toy design and sculpture, to limited edition product runs.
For this exhibit, Ocean has created 12 paintings, each with an accompanying hand-crafted customized and kit-bashed toy sculpture that brings the the story of OUTSIDE to new dimensions.
Can't make it to the gallery? Sign up for our gallery previews email list at previews.rotofugi.com to get first chance at online purchasing of these new works!
The gallery is open for viewing at Rotofugi, 2780 N. Lincoln Ave., Chicago, 10am-6pm daily, or view online at gallery.rotofugi.com
---
OUTSIDE
New Works by Ocean Muerto
January 14-February 5, 2023

Artist Reception
Please join us for an informal artist reception the evening of Saturday, January 21st, 6-8pm with light snacks and music by DJ Sean Doe!
---
About the Artist / Artist Statement

Ocean Muerto is a Pilsen(Chicago)-based creative who believes he was traumatized just enough to see the funny side of things. He fills his time exploring new media including painting, 3D printing, graffiti, toy making, and consuming bad movies so he doesn't have to be alone with his thoughts.
OUTSIDE is a love letter to anxiety and explores the fear of living life at large. Through a series of fantasyical paintings and toys, Ocean struggles with the responsibility of "Choose-Your-Own-Adventure." With no promises and guarantees, the only way through is to go "Outside."