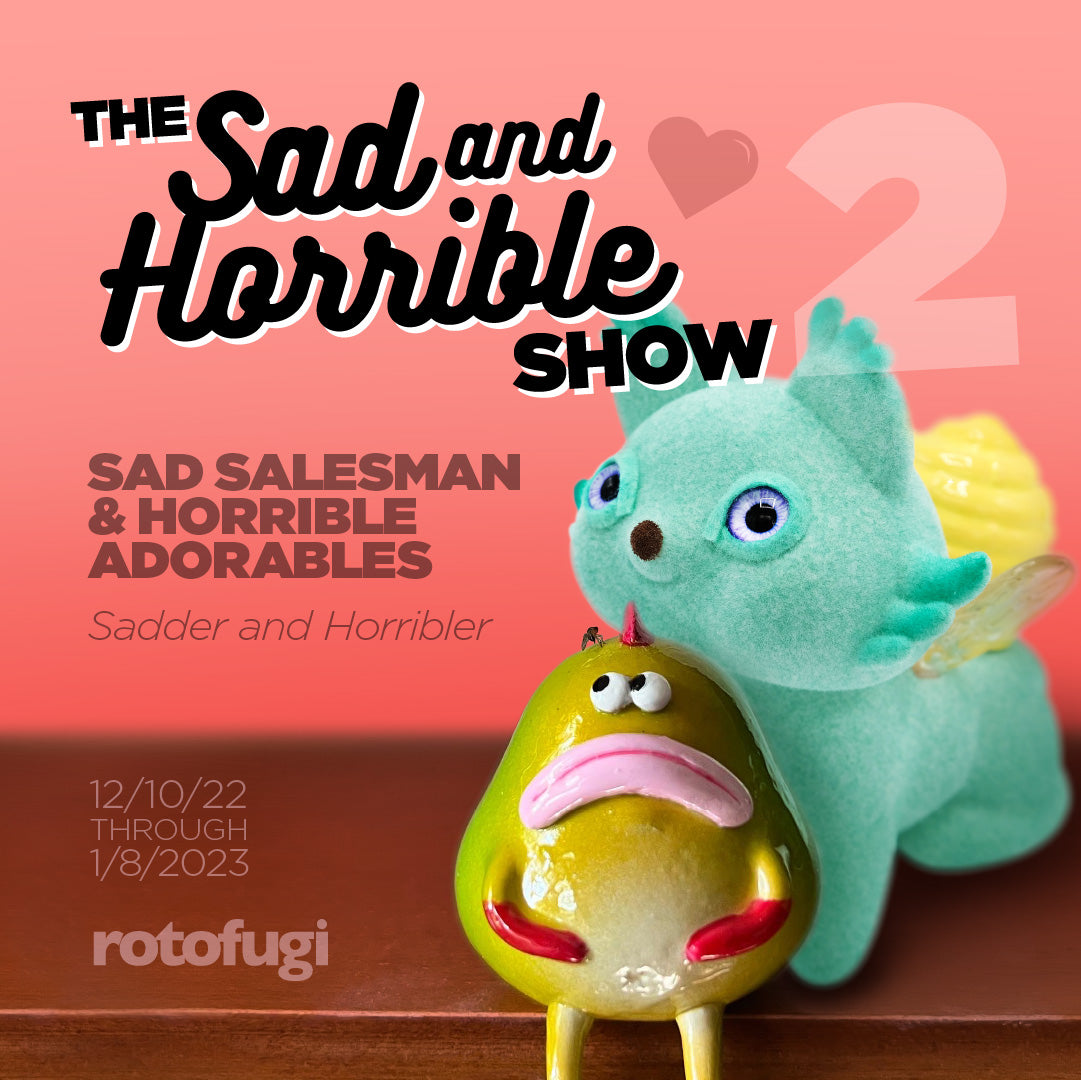 Two years ago we were very much in the middle of pandemic-induced chaos and the Sad & Horrible Show seemed oddly perfect for the times...and though things are a little better now, we couldn't resist the urge to make things just a little more sadder & horribler....that's right, it's the Sad & Horrible Show 2 featuring all new works by Sad Salesman & Horrible Adorables!

The Sad & Horrible Show 2 — Sadder & Horribler
New Works by Sad Salesman & Horrible Adorables
December 10, 2022-January 8, 2023
Open Daily 10am-6pm


The exhibit will be open for viewing and sales beginning Saturday, December 10 at 10am and we will be holding a soft opening for fans to meet and chat with the Horrible Adorables...please check our social media for an announcement on the times when they will be at the gallery.

Can't make it to the gallery? Sign up for our gallery previews email list at previews.rotofugi.com to get first chance at online purchasing of these new works!

The gallery is open for viewing at Rotofugi, 2780 N. Lincoln Ave., Chicago, 10am-6pm daily, or view online at gallery.rotofugi.com


About the Artists

Sad Salesman is New York-based artist Eric Althin…he believes there is a little sad salesman in everyone. He created a  tragic but tenacious fellow, who ended up becoming his mascot/logo/website. He has always been a character lover and for most of his life, a toy collector. As a kid it was He-man and Star Wars toys, then it became designer toys and sofubi. He started sculpting his own toy designs and fell in love with bringing new characters into the world to make your inner sad salesman smile :)

Horrible Adorables are the creations of Jordan Elise Perme and Christopher Lees, a wife and husband team from Cleveland. They met at the Cleveland Institute of Art where Jordan graduated with her BFA in Fiber & Material Studies, and Chris was pursuing training in fine arts after completing his BS in Mechanical Engineering.

Jordan and Chris bring their soft sculptures to life by meticulously arranging patterns of felt scales onto hand carved forms. The resulting characters have qualities that are booth cartoonish and eerily realistic at the same time. Horrible Adorables are strange hybrid creatures from a fantastical world. Their facial expressions and postures reveal recognizably human emotions as they interact with one another.

In addition to Horrible Adorables, Jordan also works as a freelance toy and textile designer. She has proudly worked for companies such as Little Tikes, Hasbro and Joann Fabrics.