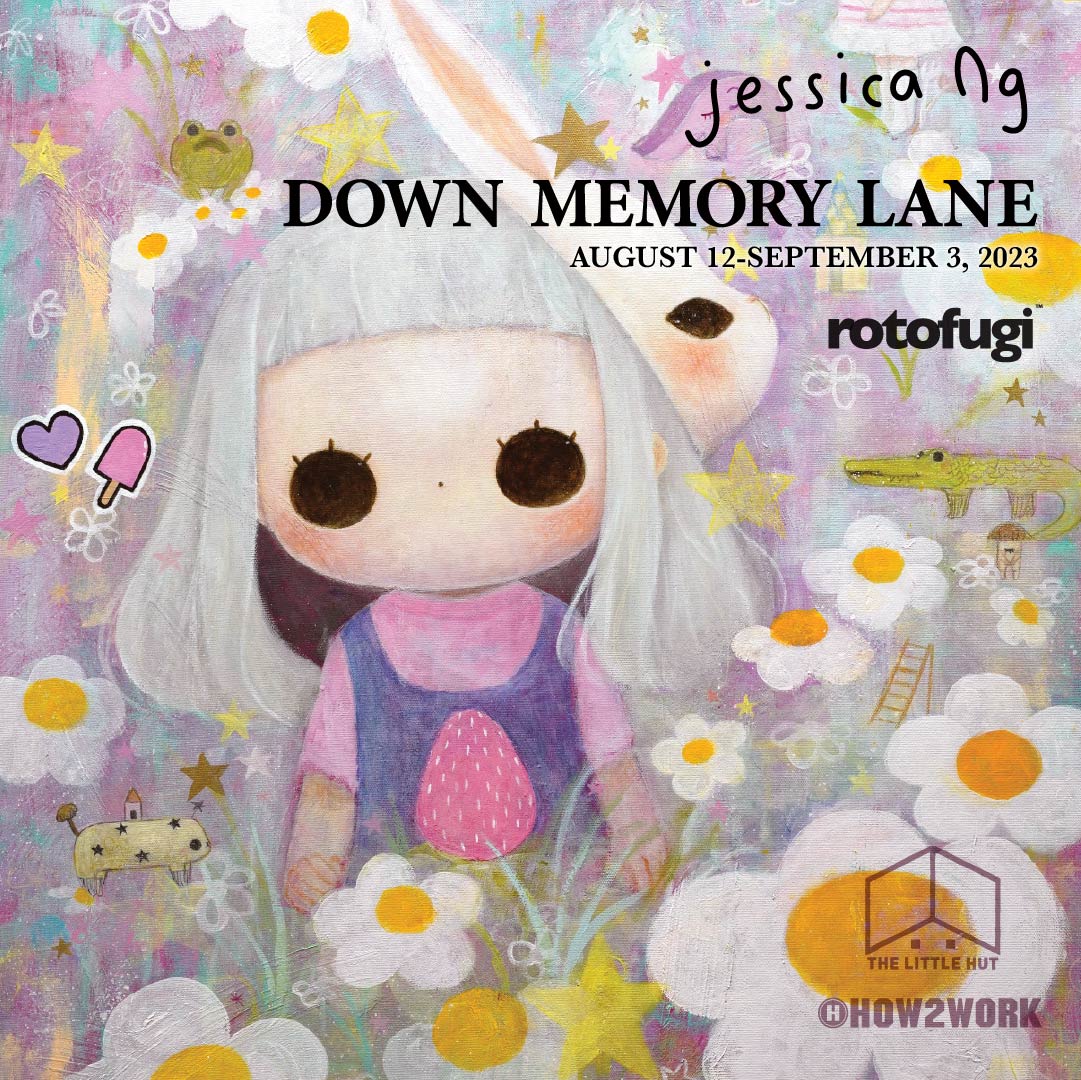 We are excited to share that our next exhibit, presented in collaboration with How2Work and The Little Hut, opens Saturday, August 12th!

Down Memory Lane features all new works by Sydney, Australia-based Jessica Ng and continues through September 3rd. The new series of works is inspired by photographs from her childhood — pictures of her and her family are reimagined with glimpses of memory and a touch of fantasy.

"I wanted to blend Estelle's journey with the world from my memories and dreams. A young Jessica who loves to doodle, scribble and stick stickers on every possible surface, and Estelle, the girl with the rabbit mask who travels to places no human can."

Down Memory Lane
New Works by Jessica Ng
August 12-September 3, 2023
Open 10am-6pm Daily

There will not be an opening reception for this exhibit, and online sales of exhibit pieces will be offered first to our Gallery Previews email list. Sign up at http://previews.rotofugi.com

About The Artist

Jessica Ng is a self-taught artist, born in Hong Kong, who grew up and lives in Sydney, Australia. She has a background in graphic and fashion design but has always loved to draw. After working in fashion for a few years, Jessica began building an online following for her watercolor drawings via Instagram. She eventually launched an online store under her brand jb0xtchi selling prints and stationery items.

In 2019 Jessica had her first solo exhibit showcasing her watercolor works on paper at the Wedge Gallery, Sydney before becoming a full time artist in 2021 focusing on acrylics on canvas. Since 2022 Jessica's works have been exhibited internationally in Hong Kong, Taiwan and now the United States.