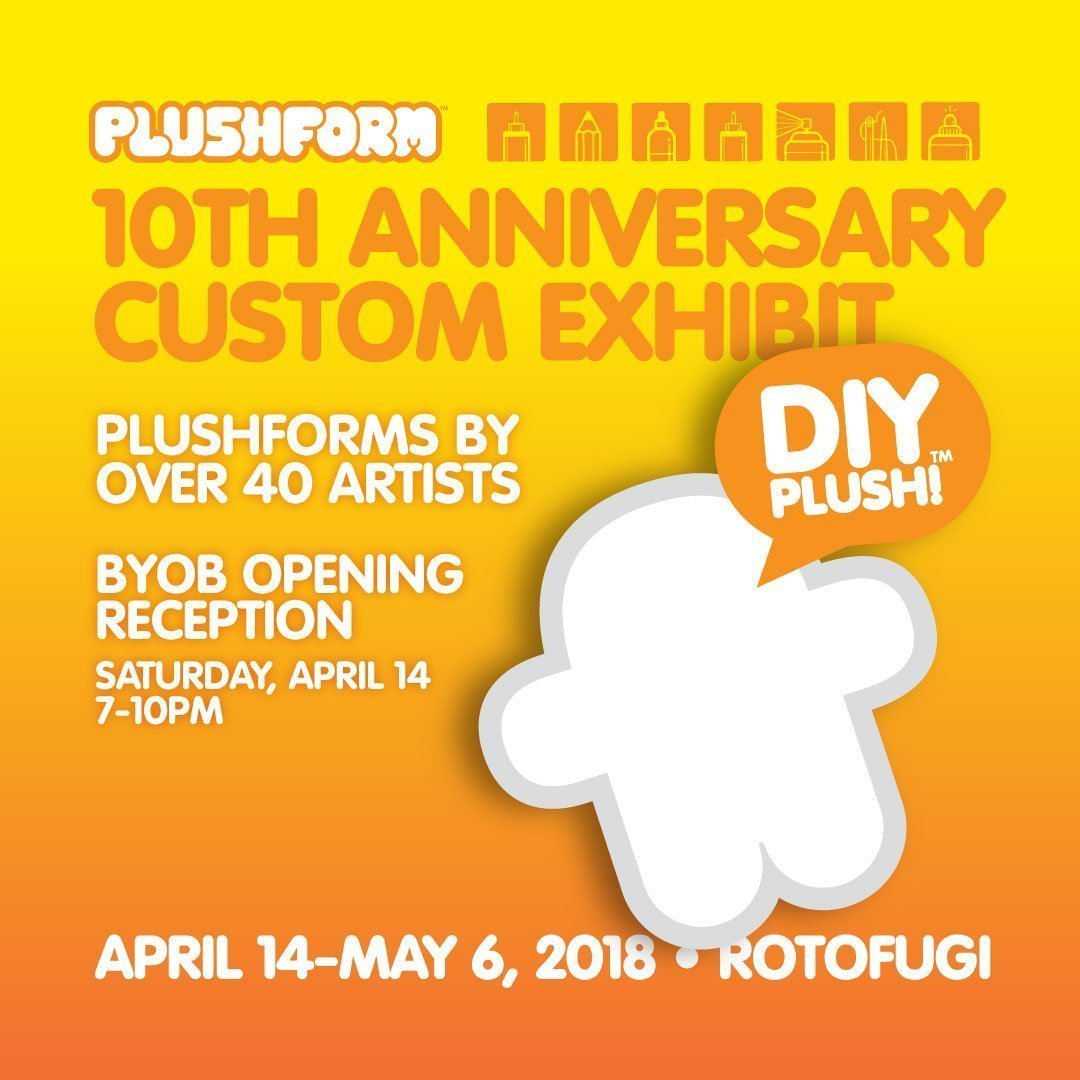 Plushform 10th Anniversary Custom Exhibit
Plushforms by Over 40 Artists
April 14-May 6, 2018
BYOB Opening Reception
Saturday, April 14, 7-10pm
Ten years ago our friends at Shawnimals and Squibbles Ink came up with the very first "totally customizable designer stuffed toy"...Plushform!
What is a Plushform, you ask? Plushform, based on Shawnimals' iconic Wee Ninja shape and produced by Chicago-based Squibbles Ink, is the first and only 100% customizable DIY plush toy. Every Plushform is made with a special coating that keeps it soft and allows you to mark on it with all of your favorite art supplies. You can start making your own creation as soon as you take it out of it's package. Plushform works great with markers, pencils and pens, brush and spray paints. It's also super easy to add things to Plushfom by sewing, glueing or other appliqué methods.
For the 10th Anniversary of Plushform we've invited over 40 artists to customize Plushforms and we're excited to see the results!
Join us the evening of Saturday, April 14, 7-10pm for the opening reception. Many of the artists will be in attendance, plus we'll have snacks and sodas available (BYOB if you want to have alcohol) and music by the always entertaining DJ Sean Doe.
For BYOB, we are steps away from Beermiscuous, one of Chicago's best craft beer shops — 350 cold beers and ciders (over 200 local beers!) are available in a singles format, allowing you to create your own mix-and-match variety pack for the event!
The exhibit continues through May 6, 2018.
Want to do your own Plushform? Through the end of the exhibit (May 6, 2018) we're offering FREE WORLDWIDE SHIPPING of Plushforms!