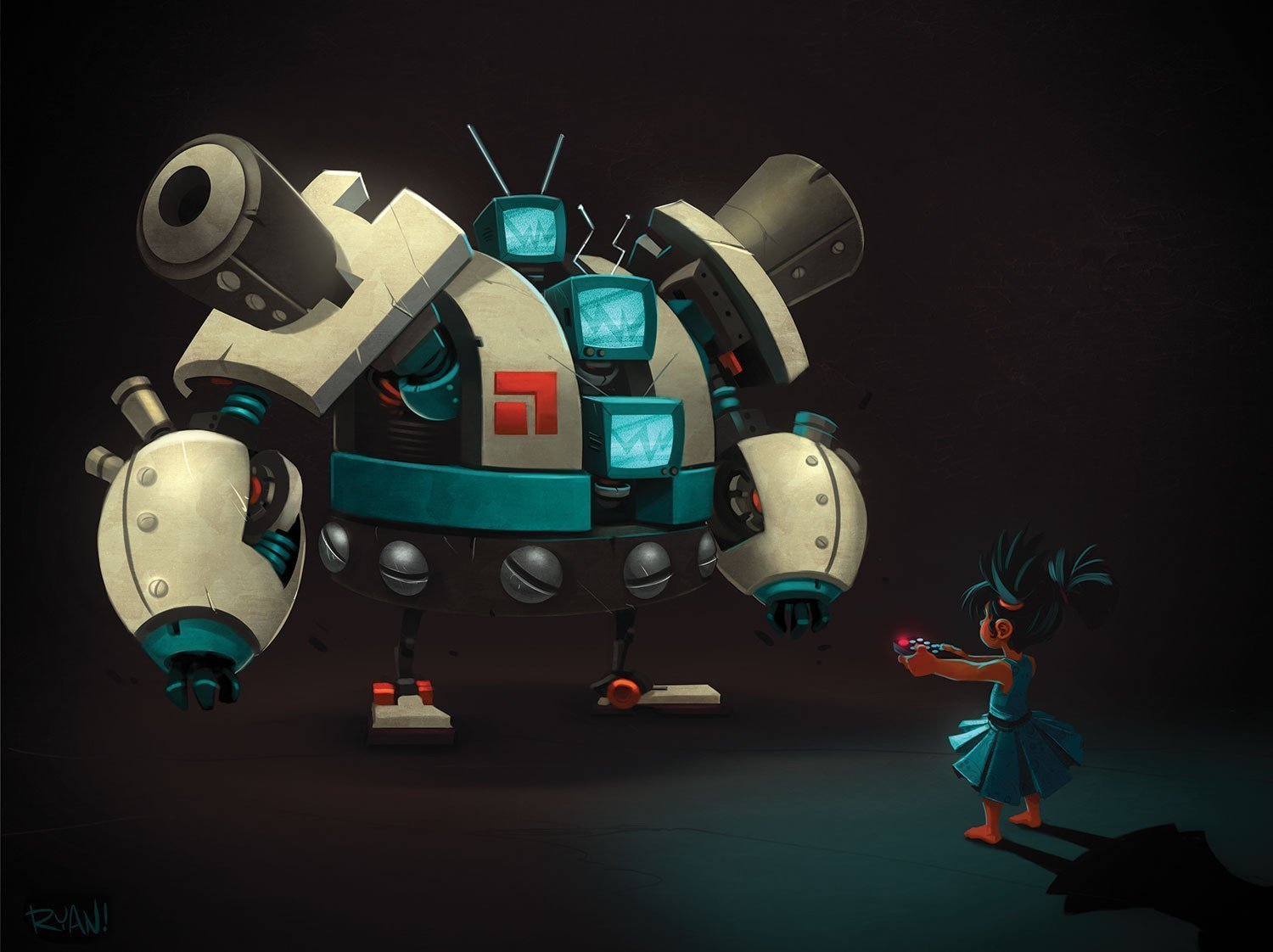 (Artwork by Ryan Hall)
Join us the evening of Friday, December 5, 7-10pm, for a special book release and group exhibit for Robot Envy: Zenith.

Robot Envy is an online community with thousands of fans and hundreds of artists coming together to celebrate the world's best robot art. The idea was launched back in 2012 with the successful kickstarter campaign of a specialty sketchbook created by davpunk. Since then, the Robot Envy network has flourished, promoting a new artist every week. This "robolution" inspired a second sketchbook titled, "Robot Envy: Reconstruction," which featured brand new designs from davpunk. Founder Dave Pasciuto (davpunk) said, "We have curated some really amazing artwork over the past 3 years. It's time to promote the creators and bring their work to life. This is why we launched Robot Envy: Zenith."

Robot Envy: Zenith features a collection of the finest robot artwork in existence. One giant robot book; over 60 incredible artists; illustrators and sculptors from around the world. The book features some of the most inspiring artists today—like Jake Parker, Steve Talkowski (Sketchbot), Dacosta, Brian Despain, Boris Bakliza, Emerson Tung, Bambino Monkey and Eric Joyner—just to name a few!

The book itself is an impressive full-color, 8.5 x 11 (portrait orientation), hardcover, 256 page art book. The interior pages will beautifully display all of the amazing artwork in vivid detail. No one has done this before until now. This is one GIANT ROBOT book (published by Magnetic Press)!

The exhibit will feature prints and originals by Dave Pasciuto, Amy Reyes, Mr. Walters, James Demski – JIMBOT, GABO, Travis Overstreet, Kyle Bice, Chris Boyd, Colin Craig, Jack Etheridge, Jim Terry, Jim Nelson, Dave Pryor, Stephen Neale and more!

Exhibit continues through February 28, 2016.